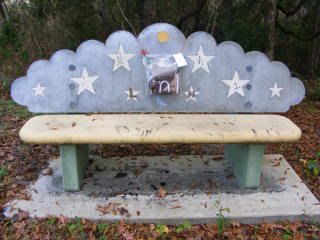 Dropped:
West Side Park on the corner of 34th Street and 8Th Ave., Gainesville, Florida, U.S.A.
Number of Toys:
1
Made and dropped by:
Crescent Moon
When:
16 December
And Crescent Moon says:
I did my toy drop this early, just before sunset, because we will not be in town this weekend. I left it at West Side Park, but I didn't want it to be near the playground, so I left it on a bench along the Solar Walk (proportionally spaced statues of all the planets in the solar system).